Anyone who knows the word 'fashion' knows Goa-based fashion designer Wendell Rodricks. A man who took cues from his cultural legacy to create a contemporary idiom for fashion that has found countless takers.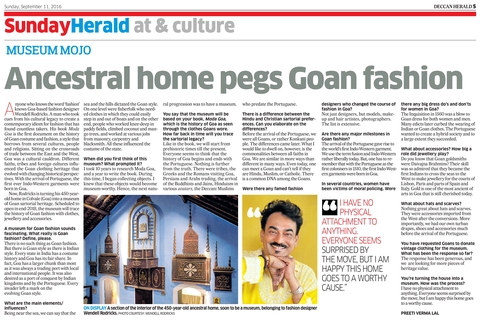 His book Moda Goa is the first document on the history of Goan costume and fashion, a style that borrows from several cultures, people and religions. Sitting on the crossroads of trade between the East and the West, Goa was a cultural cauldron. Different faiths, tribes and foreign cultures influenced the Goan clothing heritage that evolved with changing historical perspectives. With the arrival of Portuguese, the first ever Indo-Western garments were born in Goa.
Now, Rodricks is turning his 450-year-old home in Colvale (Goa) into a museum of Goan sartorial heritage. Scheduled to open in end-2018, the museum will trace the history of Goan fashion with clothes, jewellery and accessories.
By Preeti Verma Lal
From Deccan Herald, 11 September 2016