Down a quiet lane in the Goan village of Colvale, opposite a petite white-and-blue church and sheltered from the sun by a cluster of mango trees, stands the house of Wendell Rodricks's dreams.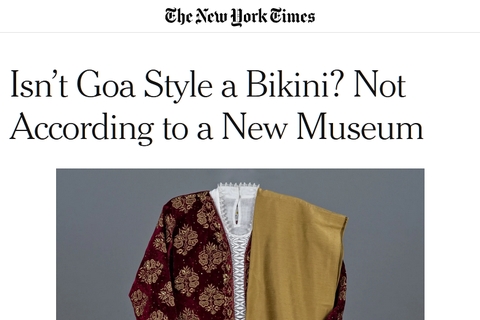 "It's a long story," the celebrated fashion designer said with a smile, before settling in to recount it.
While working in the Middle East in 1985, Mr. Rodricks had a vivid dream that he was in Colvale, his family's village in the state of Goa on India's west coast. He was walking through a house owned by the Braganza family – a house he had never been inside, and really had never even seen properly as it was surrounded by high walls.
He mentioned the dream to his mother, who lived in the village (but has since died), and she promptly told Olinda Braganza, the house's owner, after church on Sunday. Intrigued, Ms. Braganza invited him to visit.
Later that year, "when I crossed the threshold of the house – this is bizarre, I don't know what to call it. Karma? Reincarnation?" he said. "When I crossed the threshold of the house, a thought popped up in my head: 'This house is yours.'"
He said he then took Ms. Braganza on a tour of her own residence, pointing out details – like which bedroom had been her husband's — that he couldn't have known. "She was totally spooked."
The unusual meeting led to a friendship; when Ms. Braganza eventually was ready to part with the house – which is more than 400 years old, and was called Casa Dona Maria by residents of the village – she insisted she would sell it only to him.
For 24 years, Mr. Rodricks and his partner, Jérôme Marrel, lived there, renovating the red-roofed villa with care. "Every time I would sell some garments, I would buy one bag of cement and do up the house," he said.
Then, two years ago, they moved into a smaller home nearby to transform the mansion into the Moda Goa Museum and Research Centre. It is scheduled to open in December.
A Distinctive Heritage
Goa, India's smallest state at slightly less than 1,430 square miles, blurred lines between East and West long before fusion was in vogue on runways and restaurants. For centuries, it was a cosmopolitan port frequented by Greek, Abyssinian, Jewish, Roman and Arab traders; the Portuguese arrived in the 16th century and began more than 450 years of colonial rule. All these influences are apparent in the architecture, food, language and textiles – and Mr. Rodricks has been tracking its history and fashion for years.
The designer is one of India's fashion pioneers: In the 1990s he specialized in minimalistic resort wear at a time when the country was still focused on heavy embellishment, has been invited to international events like the trade fair Prêt-à-Porter Paris, and in 2014 was honored with a Padma Shri, one of India's highest civilian awards.
"Wendell always stood apart," said Shefalee Vasudev, editor of The Voice of Fashion, an online fashion and design magazine. "His identity is not just limited to Goa being his muse and inspiration. He's doing actual foot soldier work in documenting it."
Mr. Rodrick's research led in 2012 to a book, "Moda Goa: History and Style," and, ultimately, to the museum. It all, he said, was the result of a seed planted by Mario Miranda, one of India's most beloved cartoonists, who died in 2011.
In the late 1990s, Mr. Miranda "sent me on a wild-goose chase to trace the origins and history of a garment called the pano bhaju," Mr. Rodricks said. The dress, a sarong-like skirt with an embellished blouse and stole, was traditionally worn to perform the mando, a Goan folk dance. He dove into the request, tracing the pano bhaju's origins along the Silk Route.
Mr. Rodricks's academic approach to both projects has been influenced by his training. He studied fashion in Los Angeles and Paris before working as a designer in Mumbai, where he also taught a class on the history of world costumes at SNDT Women's University. He took a break in 2000, at the age of 40, for two internships: one, on conserving pre-21st century garments, at Lisbon's National Museum of Costume and another, on modern garments, at the Museum of the Fashion Institute of Technology in New York, under its director, Valerie Steele.
On Exhibits
Mr. Rodricks and Mr. Marrel have amassed an 800-piece collection, ranging from a seventh-century Apsara, or female spirit of the clouds and waters, found in a Colvale field where a Buddhist monastery once stood, to one of Mr. Rodricks's own successes: the Goan Kunbi sari, using a weave that had died out under Portuguese rule and he repopularized in 2011.
The pieces are stored at a house they own in the Goan capital of Panaji, while the museum's development continues with the assistance of Arvind D'Souza Architects, a local firm, and Eka Archiving Services of New Delhi. (Its board of trustees includes well-known names like the celebrated author Amitav Ghosh, who lives part-time in Goa.)
When Moda Goa opens this winter, it is to include a library and 16 galleries of exhibits tracing Goa's sartorial history from pre-Portuguese times to its current role as India's happy-go-lucky beach escape. Among the galleries will be one dedicated to the pano bhaju, and one, secured by a bank vault door, to display gold jewelry. Even the swimming pool has been covered and turned into a display area for a range of saris.
The museum's first temporary exhibition is to be "Modern Brides of Bollywood." Deepika Padukone and Anushka Sharma, actresses and friends of Mr. Rodricks, have promised to lend their bridal lehengas, or wedding outfits.
"My most favorite pieces are frankly the personal pieces that were donated," Mr. Rodricks said. "For Reita Faria to give her bathing suit in which she won Miss World and all her sashes, that's really precious for me. A lady gave me a most beautiful pano bhaju from Lisbon. These items came with such a generosity of spirit."
A second phase of the museum, which Mr. Rodricks hopes to open in 2021, is to include a research institute, scholar's residence and conservation lab.
The cost of the museum's development is being defrayed by gallery sponsorships, including a $1 million contribution from Ernest and Catherine Alliott of Singapore.
Charmaine and Francis Rozario, friends of Mr. Rodricks who also are based in Singapore but who once lived in Goa, are sponsoring the pano bhaju room: "I'm passionate about everything Goan, about preserving our culture," Ms. Rozario said. "It's disappearing so fast."
The museum's opening is planned to coincide with Goa's Serendipity Arts Festival, which seems appropriate, as it all began with a dream.
"A dream leads to a house. A house leads to a book. A book leads to a museum," Mr. Rodricks said. "That doesn't happen often in people's lives unless dharma decides it."
By Sarah A. Khan
From The New York Times, 10 March 2019